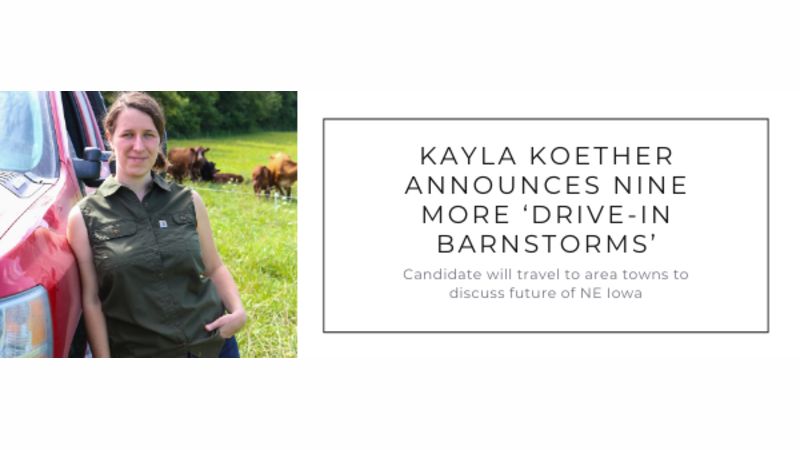 "This is a critical moment for our rural communities."
Kayla Koether, candidate for Iowa House, announced this week nine more live in-person Barnstorm campaign events in towns across District 55. Each Barnstorm will feature Koether discussing her campaign and how to prevent rural Iowa from "being left behind."
    These 'Drive-In Barnstorms' are possible through the efforts of local hosts," Koether said. "Despite the challenges of COVID, I am committed to making sure every Northeast Iowan's voice is heard. Each event provides an excellent opportunity to meet with people and shape a powerful shared vision for a better future here together- one that includes opportunities for the next generation.

The "drive-in" format meets recommended Covid-19 distancing, allowing the audience to stay in their cars and talk with Kayla Koether who will be on stage in the bed of her pick-up truck.
    Audience members can tune to a special FM channel on their car radios which will carry Koether's live remarks. Attendees can share comments and add to the discussion by calling or texting Kayla's cell phone number during the event.

"This is a critical moment for our rural communities," the Democratic candidate said. Our rural communities are being left behind. under our state government's watch. We see it all around us. Many folks struggle to access quality, affordable healthcare. Farms that have been in families for generations are being squeezed out of existence. Towns are being hollowed out. The governor and legislature have back-burnered public education in rural areas and denied adequate funding for k-12, pre-school, and our trade schools and colleges. COVID is only making these challenges worse. We need someone who will stand up for the people, farms and businesses of Northeast Iowa."
    Koether is the fifth-generation of a northeast Iowa farm family and a champion of rural communities. She ran a grass-roots campaign in 2018 for House District 55 but lost by nine votes with 29 absentee ballots uncounted. Her efforts after the election helped spur a change in Iowa law to assure valid absentee ballots would be counted.

Drive-in Barnstorms with Kayla Koether Calmar/Spillville Sunday Sept. 13, 3 pm Lake Meyer Park, campground parking lot 2546 Lake Meyer Rd.
Highlandville/Hesper Tuesday, Sept. 15, 7 pm Wildberry Winery parking lot 1966 337th St., Decorah
Ft. Atkinson/Festina/Jackson/Rural Protovin Thursday, Sept. 17, 7 pm Ft. Atkinson City Park 150th St.
Decorah Saturday, Sept. 19, 7 pm Will Baker Athletic Field parking lot Pulpit Rock Rd, Decorah
West Union Sunday, Sept. 20, 3 pm Lion's Park Slayton St., West Union Elgin/Gunder/Clermont Monday, Sept. 21, 7 pm Heritage Farm Park parking lot 26411 Harding Rd., Clermont
Ossian/Castalia/Frankville Tuesday, Sept. 22, 7 pm South Winneshiek Elementary/Middle School parking lot. East side 208 E. Brooks St., Ossian
Fayette/Wadena Thursday, Sept. 24, 7 pm Heaven Boutique Winery parking lot 10408 Ivy Road, Fayette,
Elkader Saturday, Sept. 26, 11 am Community Swimming Pool parking lot 800 South High St., Elkader